What's Missing from Postpartum Care?
Despite everyone's best efforts, moms are not adequately supported during postpartum.
Here's a quick overview of the postpartum timeline for *most* moms:
After giving birth, the nurses care for baby and mom for a couple of days in the hospital. They do a tremendous job in the limited time they have with each mom. The doctors are even more busy and spend their day constantly going from one patient to the next. 
Meanwhile both parents are also learning how to take care of a new baby. 
Then you're discharged a day or two after giving birth, once the baby passes its tests and mom is able to go to the bathroom on her own and the bleeding is somewhat tolerable. They give some tips and send you home with a few items (including your baby!). 
Care for mom seems pretty reasonable in those couple of days. This isn't the problem. The problem comes from what happens before and after (maybe more aptly, what doesn't happen).
1. Moms are given little indication of what to expect.
There are a variety of symptoms any mom might experience during postpartum. But, few healthcare resources are spent preparing mom for postpartum. 
Just picture a first-time mom amidst the chaos of having her first baby. Add to it having to figure out her own way to recover, not knowing whether what she's experiencing is normal or not. Top it off with uncontrollable hormonal swings.
The second time around, even if she knows what to expect to some degree, it's still difficult for mom to find the time to take care of herself. For us, we kind of remembered our first experience AND we knew what to expect as a result of building numa. But we were also dealing with a jealous toddler on top of the new baby. 
2. Lack of follow up well-mom care. 
Our first check up was six weeks postpartum. Mom's body can go through a lot of ups and downs during that time. 
The baby is well taken care of. So is pregnant mom. Postpartum mom, not so much. Expecting moms get plenty of attention leading up to the birth, then are left to fend for themselves while they recover. 
Maybe Covid screwed this up but it's not like pre-Covid standards were high. The system is set up well for pregnancy check-ups but the standard of care drops off a cliff after the baby is born.  
3. They send mom home with poor quality items: 
Like these cheap, dinky peri bottles:     
Or these mesh undies:     
It's appalling that these exist, much less that it's common practice for hospitals to send you home with them. 

The baby gets a half dozen knit hats but they can't spend more than a couple quarters on a decent peri bottle - something that is widely needed by new moms. 
These are just a couple of glaring examples. They try their best to help given the resources they have but the result is inadequate. 
To be clear, this is a systemic issue. It's no fault of the individual health care providers who are doing everything they can within the confines of the system. It's a subset of a broader problem with the way our healthcare system is structured. 
But it's also cultural. It's a modern problem caused by how society approaches the transition to motherhood (there are countless examples of cultures and societies with rituals for supporting moms during postpartum).
This is what numa is working to solve. We're focused specifically on helping new moms get the information, products, and support they need. And changing how society views postpartum. 
At numa, we envision a future where all moms are supported after giving birth. Supported by her family, community, and the healthcare system. When someone gets news of a pregnant mom-to-be in their life, instead of thinking about what baby toy to get, their first thought will be "what can I do to help mom?"
There's a lot to be done to get there. In addition to continuing to provide postpartum products and resources to moms, we'll work to increase awareness of the issue, build partnerships, and over time, address broader issues through advocacy.
We hope you'll join us in this journey and most importantly, help a new mom in your life. A little bit goes a long way. 😊
---
Also in articles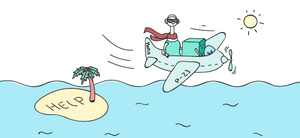 Ready for baby? yep. Pregnancy checkups complete? yep. Postpartum? uhhh . . .