The Truth About Childbirth Recovery & Why it's Overlooked
Surprises are great, right?
Ha, not when it comes to childbirth.
If this sounds obvious, why is it that most of us are better prepared for a weekend trip than the average mom is for her recovery?
Sounds crazy. Yet . . . it's kinda true.
How is this possible?
Well, there's a lot going on here.
3 Reasons Childbirth Recovery is Overlooked
Reason #1: Awwwwww
Babies are cute.
So damn cute.                                                                                                             
No one to blame here. Turns out it's simply fun to prepare for babies. Especially compared to what new moms experience - pain, exhaustion, bleeding, swelling… (you get it).
And parenting is life-changing. Loving and caring for the baby is obviously important.  
BUT… mom's recovery should be a priority.
Crazy concept, huh? Sounds non-controversial but our society is failing at this.
Ok, maybe you're thinking: "New moms just know how to suck it up for a few weeks while their new baby needs them the most."  
Moms do this all the time and will continue to do it because they're f****ing heroes. We laugh it off with a meme and say "that's just the way it is."
Hilarious! But it doesn't have to be this way.
First and foremost, making mom's recovery a priority is a must.
Plus, how can a new mom possibly provide the best care for her child when she is pushed to the brink of exhaustion? A mom who prioritizes her own well-being is better able to take care of her adorable new baby.  
Reason #2 Childbirth is Overlooked: Ewwwww
Let's be honest - vaginal bleeding, hormonal changes, and mental health aren't what most people would consider "sexy" or "fun" topics.
Especially when compared to cute babies (awwww). And especially in the U.S. where these topics are seen as taboo.
So what do we do?
Avoid.
Like a toddler delaying bedtime, we do everything we can to avoid it.  
The problem is, these "not fun" topics are typical factors in every mom's recovery. Not preparing for these symptoms ahead of time makes them 1000x more challenging when postpartum arrives.
We as a society have a looooong way to go but we're s l o w l y getting better about talking about this "taboo" subject.
Case in point - here are a couple examples of moms confronting the realities of the postpartum experience in media:
Simple. Funny. And spot on.
It summarizes one of the many unexpected aspects of the postpartum experience: There will be blood.  
Sort of like your period but worse and lasts longer...
Chrissy has been awesome at being candid about postpartum realities, from both a physical and mental health perspective.
Prefer R-rated humor?
Try Ali wong's netflix standup: Hard Knock Wife.
It's edgy, hilarious, and only slightly exaggerated.
Here's one of her gems:
"Nobody told me about all the crazy shit that comes out of your pussy after you give birth.
You have to wear this cartoonishly large pad, that's like the size of a toddler mattress. And it's only held up by the strength of this mesh-fishnet underwear that's exclusively available at the hospital.  
You can't get that shit on Amazon or anything. So you gotta snatch that shit every day. It's made out of the same material that they package fancy Korean pears in."
(P.S. numa has a better option)
Reason #3 Childbirth is Overlooked: wuuuuttt? huhhhhh?!?!
There's soooo much to prepare for:
Set up the nursery (nesting!)

Install car seats

Pack your hospital bag

Find daycare

Learn how to be a parent

And don't forget to stock up on diapers, wipes, sleep sacks…
Amidst of all this chaos, you have to find time to figure out the baby's name (and agree on it).
By the way, we're just talking about the final 2 weeks!
When the big day comes, it's filled with every emotion you could ever imagine - from the pain of contractions to the unrivaled joy of holding your baby for the first time.
After a couple of head-spinning days at the hospital where you have nurses at your whim, you're ready to take your bundle of joy home.
Once you complete the harrowing drive home, questions start spinning in your head...
"When will I get to catch up on sleep?"
"Will I ever be able to poop normally again?"
"Will my vagina be ok? what is going on?"
All the while telling yourself that you shouldn't complain because this is one of the happiest events of your life.
Welcome to postpartum!
When the focus shifts completely off your pregnancy to this amazing new life that you've created.  
But wait. This is a critical time for your own recovery, both physically and mentally.  
To sum up the #3 reason that childbirth recovery is overlooked: There's a ton of shit going on.
Now it all sorta makes sense.
But it's still crazy! And we can and should do better!
Because we know that physical and mental well-being are intertwined.
Support systems, preparing and being informed, managing stress and anxiety… these are all factors that impact both physical and mental health.
Improving any of these by themselves will make the postpartum experience better overall.
Improving all of these factors at once can make a world of difference.  
---
Also in articles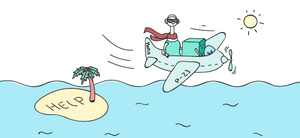 Ready for baby? yep. Pregnancy checkups complete? yep. Postpartum? uhhh . . .